Ktima Rizes
(Estate of roots)
Zakynthos – Greece
Roots(Rizes) are invisible
Roots don't possess the magnificence of the trunk, the magical colours of the leaves or the flavouful and intoxicating fragrances of the fruit.
Roots are buried deep below the ground, the most humble of places.
Without roots though, the tree would not survive, not exist.
Roots are invisible.
The air we breathe, The light which clears our view, The faith we devote ourselves to, all present the gift of life and yet remain invisible.
Many different types of trees, many different types of people, every single one with its own invisible root!
"Noticing, concentrating, absorbing  the way nature works is better than any seminar for me. In theater and cultivation."
Kostantis Mouzakis
Ask the owner Kostantis(Kosta) Mouzakis
"Why do you chose to be an organic farmer?"
Than the answer is simply:
"Because there is no real difference between organic farming and traditional."
In fact, the same people who tried to force pesticides on us decades ago, are the ones coming around trying to replace these chemicals or enforce limits and fines.
Our farm is entirely self sufficient. This is a problem for people who make their living off taxing and enforcing. It is a "monastery" to the extent that they can live of the flora and fauna whose lives they enhance and protect.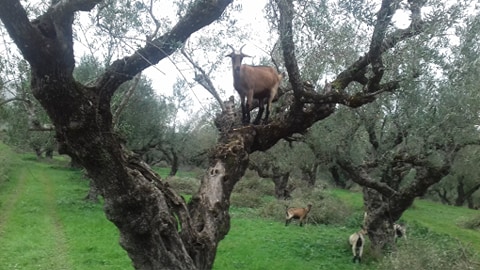 Konstantis is also an actor and director with a local theater and has produced pieces that have been performed on the Greek National Theater's stage and have received numerous awards.His preferred brand of theater can be described as minimalist art that forces you to think rather than chewing one or two ideas and producing colorful images for plain entertainment. You might think this is hard work but the beauty and poetry of such work provides just as much, if not more of an escape from grey reality. You can keep up with Kostantis work…
"Theater and nature are found within each other.
I see no difference."
"KTIMA RIZES bio olive oil" opens up the possibility of acquiring first-class pure olive oil.